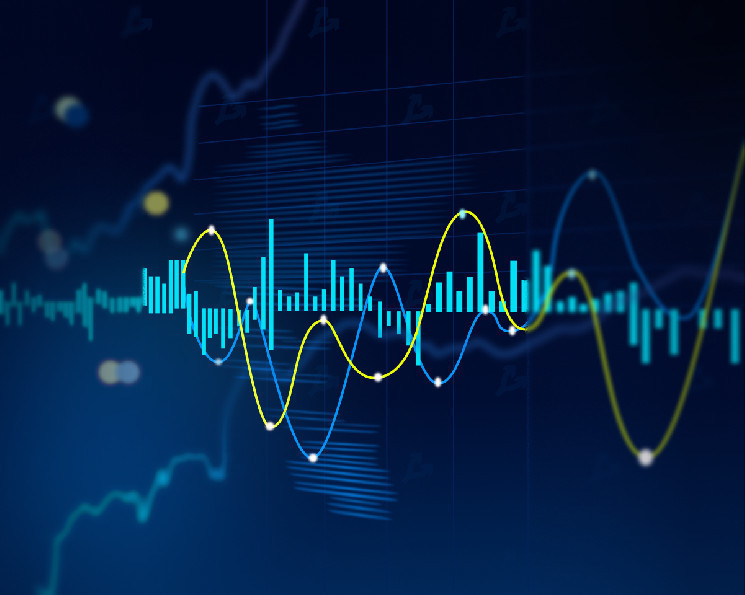 ---
Disclaimer
Financial market forecasts are the private opinions of their authors. The current analysis is not intended to be a guide to trading. ForkLog is not responsible for the results of work that may arise when using trading recommendations from the presented reviews.
Nikita Semov, a practicing trader and founder of the Crypto Mentors project, talks about the current market situation.
As expected, the bitcoin price not only reached $ 52,000, but also broke through the value zone. Expectations for the current week are only purchases.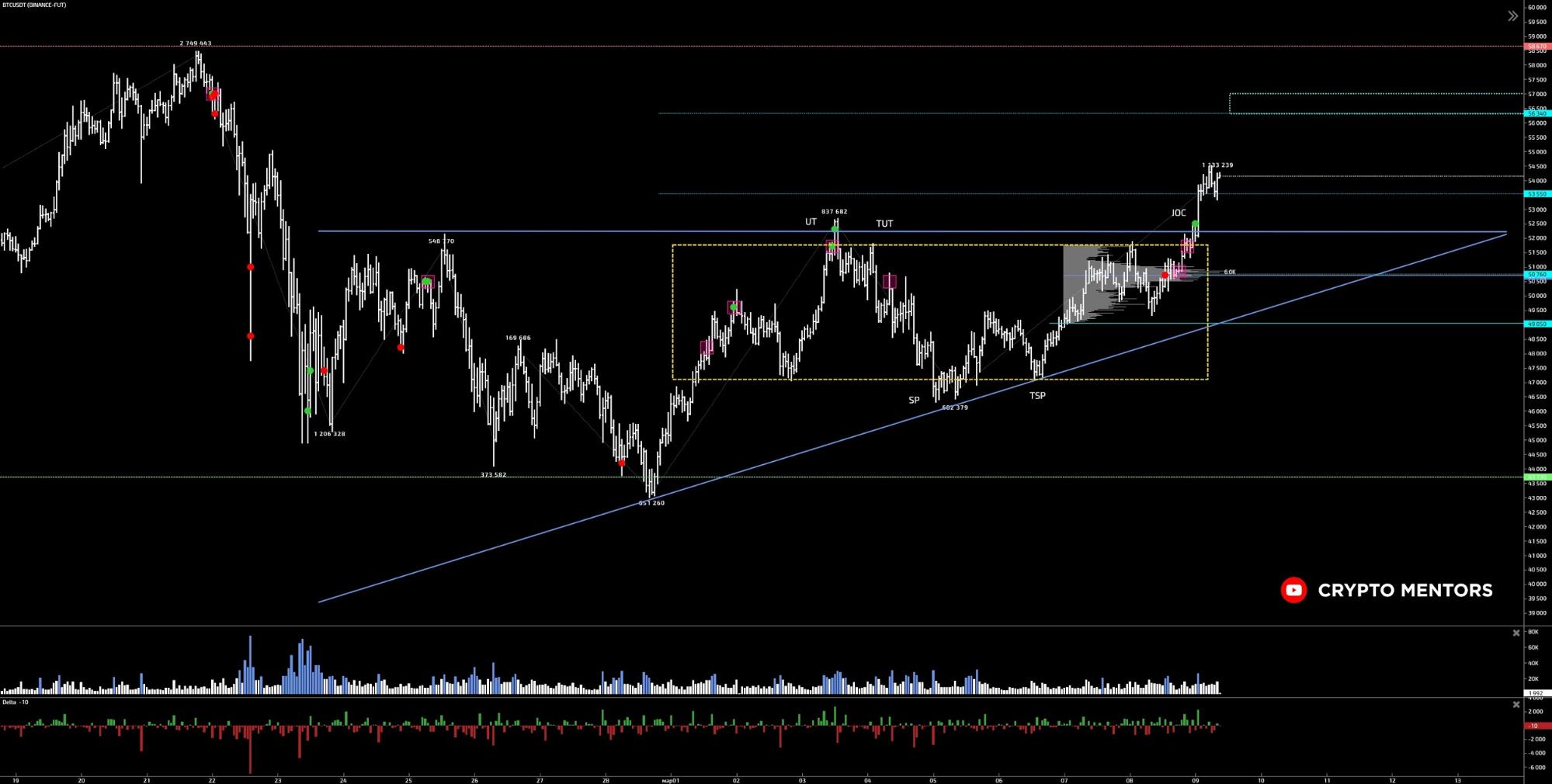 First, we are above the Value Area after testing the maximum balance level. This is one of the most reliable set-ups when exiting any accumulation, which indicates a powerful expansion that is impending.
Secondly, a lot of protective and pushing volumes appeared from below, which led to a natural result. On the sales side, such activity is not observed.
In addition to the setup from the volumetric analysis, you can pay attention to the "Squeeze" Price Action pattern, which was mentioned in the last review as the most likely scenario. This formation indicated a weakening of the $ 52,500 level and has already been terminated in a positive manner.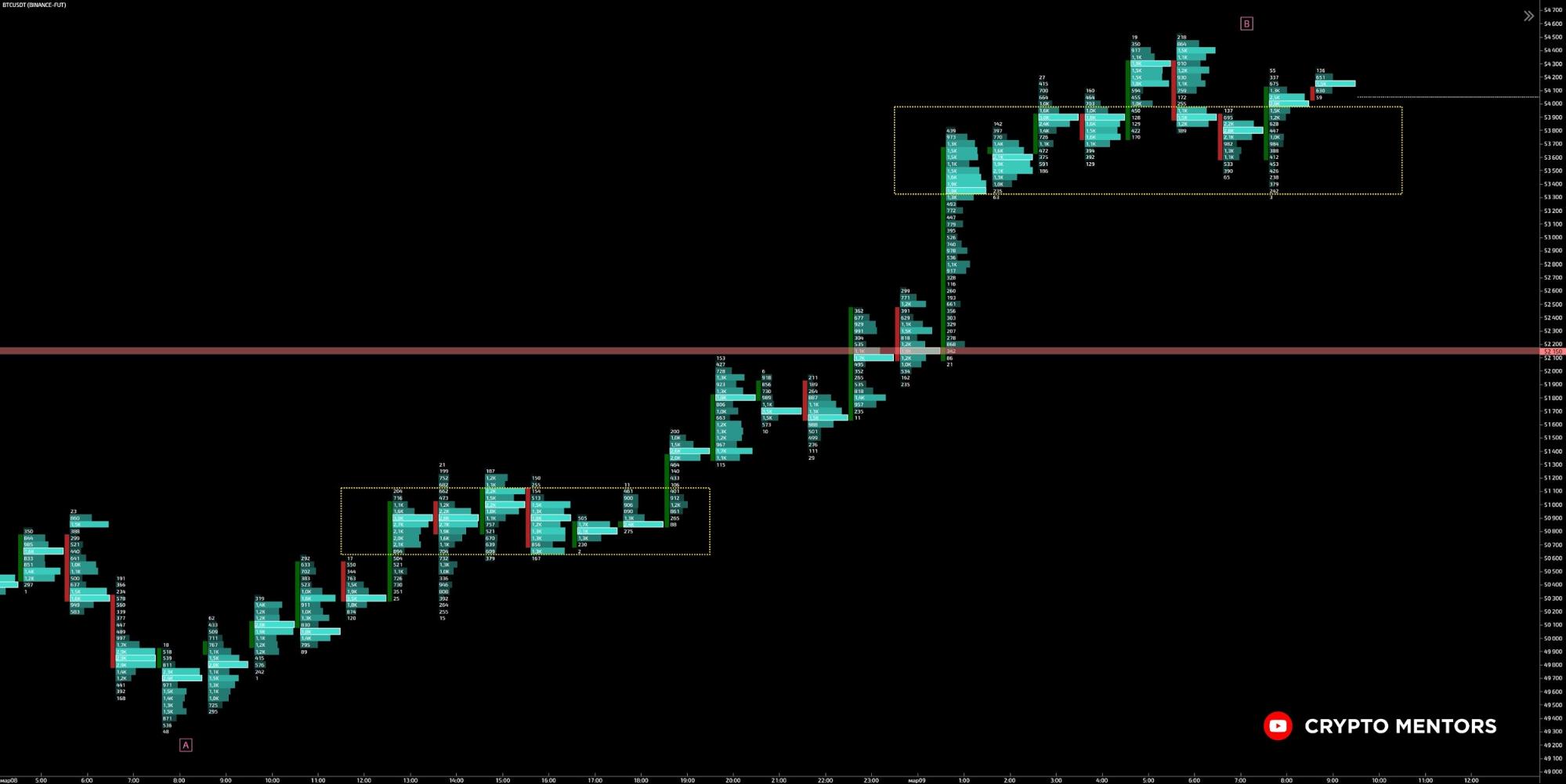 In 71% of cases, the JOC pattern (aka breakout) leads to a "Back-To-Creek" (breakout test). Taking into account the currently forming volume in the range of $ 53,950- $ 54,125, consolidation below $ 53,950 will lead to a correction.
The stop levels of the corrective wave are $ 52,900, $ 52,500 and $ 52,150.
We expect longs from this week and, possibly, a new all-time high of the price. The only thing is that you need to watch the resistance level of $ 56,000. Volumes at this mark are unlikely to reverse the movement, but they can give a pullback.
Before leaving above, a slight correction to the levels indicated above may occur.