Grayscale Investments, the largest fund in the cryptocurrency market, posted on the website recruiting information for numerous vacancies of managers and financial specialists specializing in ETF fund management. This is a new direction for a company now operating in the regime of trusts tied to certain types of cryptocurrencies.
According to a March 9th report, Grayscale funds have attracted more than $ 40 billion in investments in the form of shares backed by real digital assets.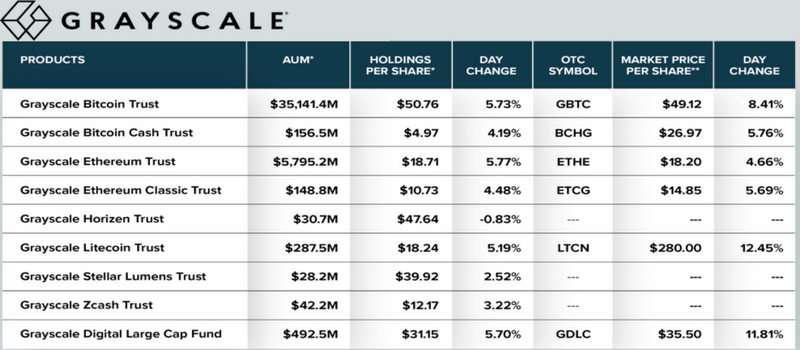 Companies that are ready to invest at least $ 25 thousand frozen from six months (Bitcoin and Ethereum Trust) to a year can become depositors of trusts. The rest of the clients have to be content with buying shares of Grayscale funds, issued on the OTC market for the amount of shares.
Such limited emission did not meet the demand, which led to the growth of securities, higher than the cost of the spot rate of the cryptocurrency. Until 2021, there were no alternatives to Grayscale crypto shares until Bitcoin ETFs appeared on the Canadian stock exchange.
Unlike securities of Grayscale trusts, shares of cryptocurrency ETFs are freely traded with a rigid reference to the spot rate and are in no way limited in terms of the size of the issue. In the near future, Bitcoin ETF is expected to appear on the American CBOE exchange.
These events led to the formation of a negative premium with the BTC spot rate in the Grayscale Bitcoin Trust stock. The next result may be an outflow of crypto-shareholders, although many institutions are satisfied with the "freezing" of investments backed by real cryptocurrency.
The problem will mainly affect trading in securities, Grayscale is forced to reform the business in order to go directly to the stock exchange, offering ETF shares pegged to the BTC rate and issued without restrictions.