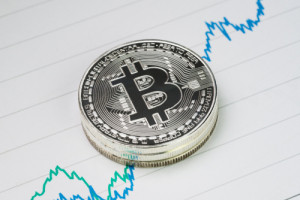 ---
Bitcoin is often criticized for its high volatility, but Bloomberg senior commodity strategist Mike McGlone believes that investors will soon turn to cryptocurrency during periods of risk aversion. According to McGlone, this process is already in full swing, and 2021 could be a watershed year for the recognition of cryptocurrency as a defensive asset.

"Bitcoin is on track to become a global reserve asset. The leap from maturity in 2021 could be a factor in turning bitcoin into an asset that will be chosen to mitigate risk, "he writes.

McGlone accompanied his comment with a chart showing that the current bullish cycle is in line with the 2013 and 2017 trends. If the previous scenarios repeat, a new peak may be at around $ 400,000, the chart shows. For this, bitcoin must rise in price eight times, and the Bloomberg strategist expects that this will happen already this year.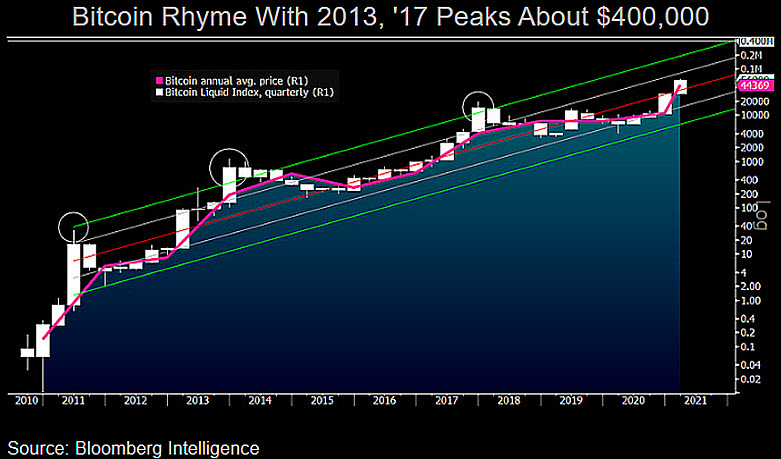 McGlone's forecast overshadows analysts' expectations for the stock-to-flow model – it suggests that Bitcoin will only rise to $ 288,000 by 2024. Although the strategist does not specify the specific factors behind the growth of the price of the cryptocurrency to the specified levels, the idea that bitcoin reduces portfolio risks, and does not increase them, as was previously assumed, has recently been increasingly engaging market participants.

Troy Gaesky, senior portfolio manager at SkyBridge Capital, told Bloomberg today that Bitcoin is a must for investor success in 2021.

"We believe that by the end of this year, people will potentially be able to look back and say," If you had a significant position in Bitcoin, this year has been a good year for you, or even a great one. If you do not have this position, it may be much more difficult for you to achieve the desired results, given all the events that we discuss in the context of chaotic monetary policy, interest rates and valuations, "he said.

According to Gaeschi, his own company's Bitcoin position is 13% of the portfolio. Speaking about cryptocurrency volatility, he noted that this is the price you have to pay for higher performance. "This is a unique opportunity where the said risk is actually paid for," he added.

The investor announced that SkyBridge is usually more conservative about position sizing, but the situation was different with Bitcoin, as they feared missing out on a rare opportunity. Initially, SkyBridge started from its standard position size of 4-8%, but the subsequent rise in the price of bitcoin led to an increase in its share in the portfolio.

"It is quite obvious that if there is any major movement, it will be somewhere in the short term. We started investing little by little in mid-November and increased our share to 5.5% in December. These are all our costs. From that moment on, we have not added any capital, "he said.

In the future, SkyBridge intends to adjust the size of the position, added Gaeschi, but right now Bitcoin is at a promising point and is taking advantage of the combination of three factors: an increase in money supply, distribution and a halving cycle.

Morgan Stanley, the first major US investment bank preparing to offer its clients access to cryptocurrency, has recently been talking about the admissibility of including bitcoin in the portfolio. His analysts, however, state that the inherent risks prevent more than 2.5% of their capital from being invested in bitcoin.