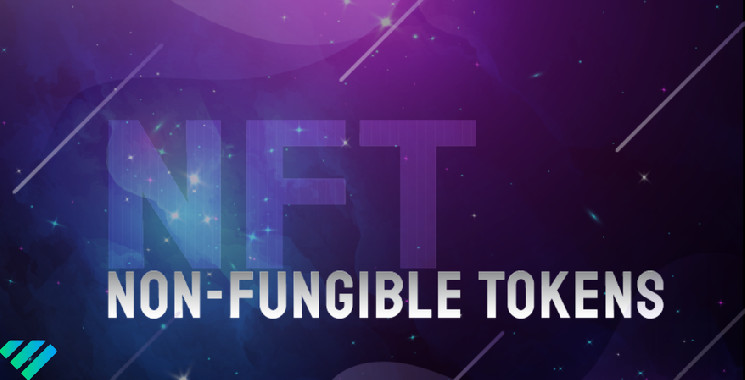 From February 4 to March 4, the trading volume of non-fungible tokens (NFT) on the 12 largest platforms reached a record $ 480 million.
In the last 30 days, the top 12 #NFT Marketplaces have accumulated over $ 480 million in transaction volume.

Find out which NFT Marketplace has been the biggest contributor. @opensea @nba_topshot @rariblecom @larvalabs @SorareHQ @AtomicHub @GPKMarket https://t.co/7vda2nV6cH

– DappRadar (@DappRadar) March 5, 2021
As of March 7, the figure could exceed the landmark level of $ 500 million. At the time of writing, DappRadar has not updated the statistics. The number of users for March 5-7 on the three leading NFT marketplaces surpassed the values ​​for the same dates in February.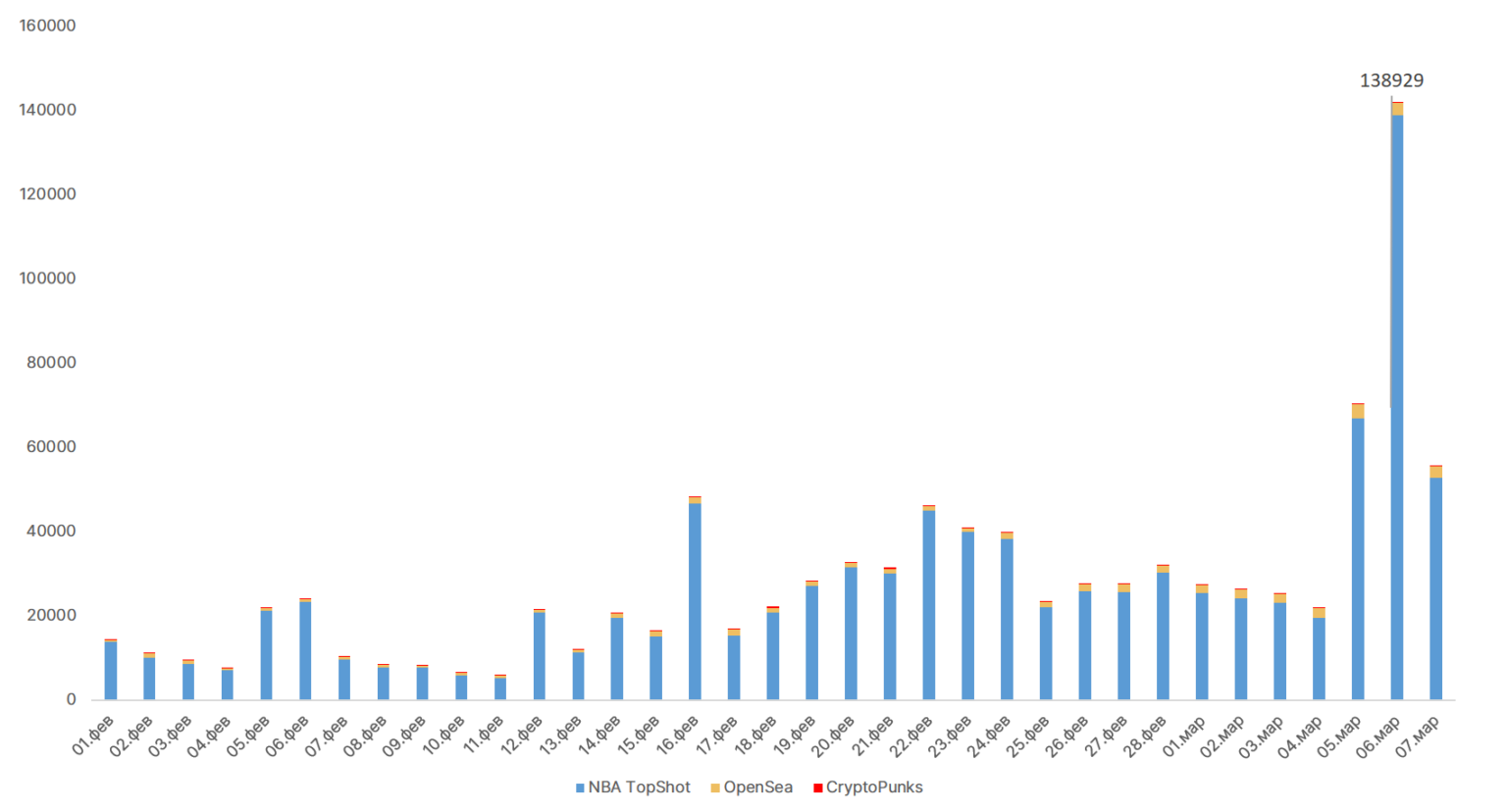 The daily number of users of the most popular NFT marketplaces. Data: DappRadar.
A similar trend can be traced with the number of transactions.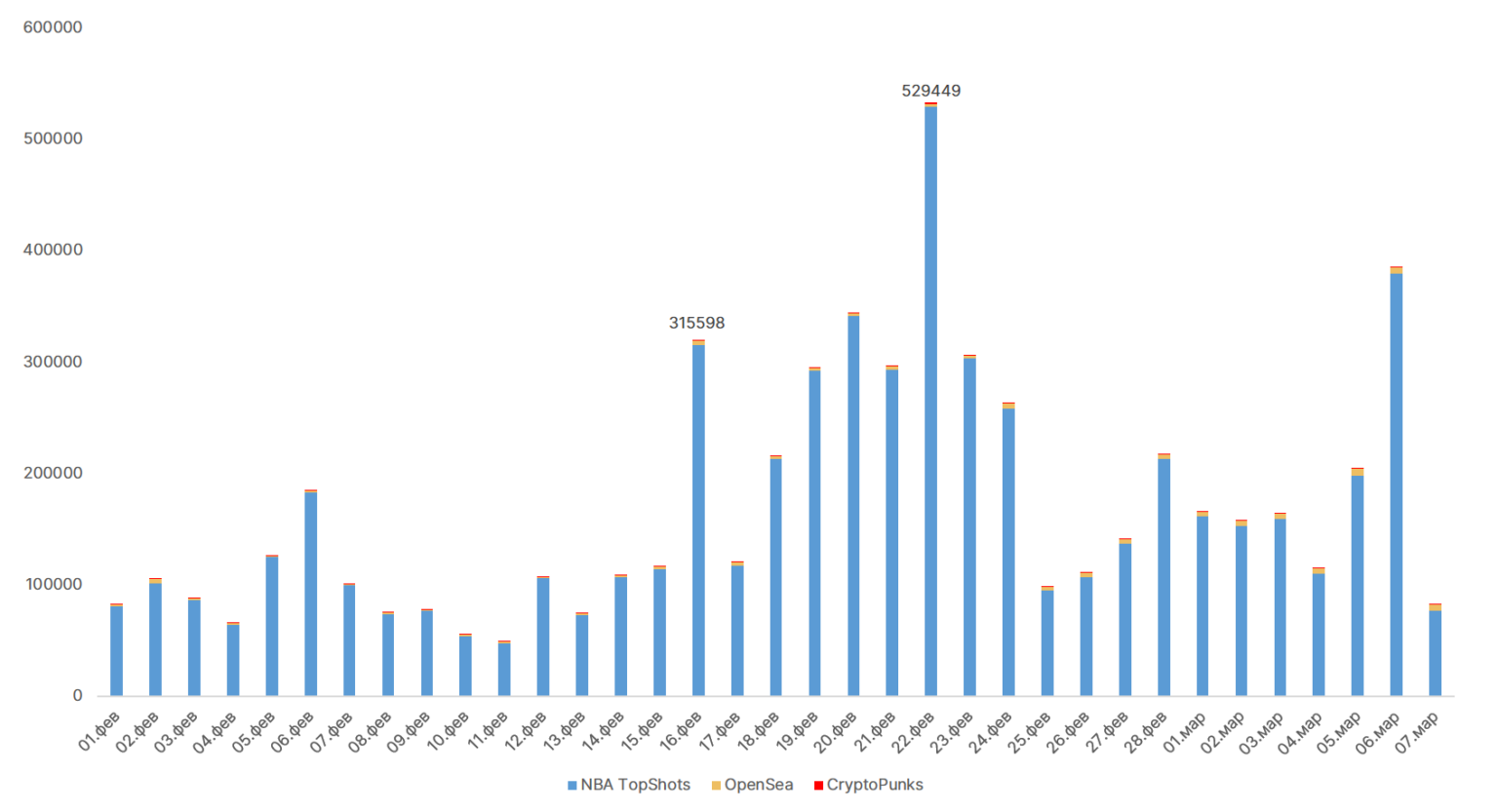 Daily number of transactions on leading NFT marketplaces. Data: DappRadar.
From February 4 to March 4, the maximum price for the sold NFT was $ 1.54 million (800 ETH). In the top 5 sales for this period, there are four tokens from the CryptoPunk NFT marketplace.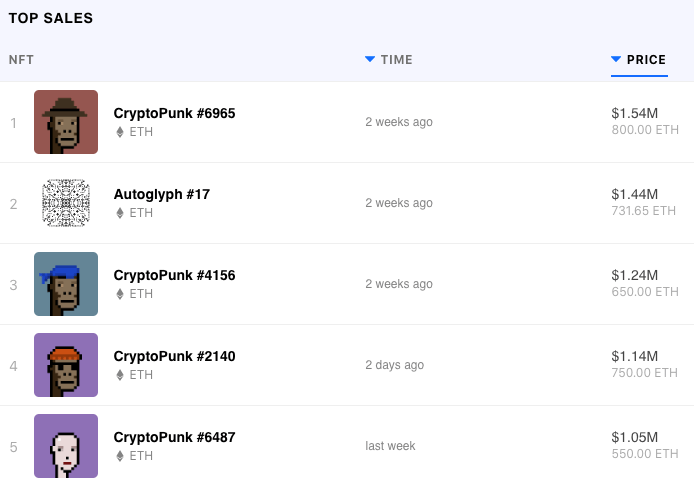 Top 5 lots sold on NFT marketplaces. Data: DappRadar.
The leading positions in terms of monthly turnover were retained by the NFT-marketplace NBA TopShot.

Top 5 NFT marketplaces by sales volume. Data: DappRadar.
Recall that an NFT copy of Banksy's burned painting was purchased for 228 ETH (~ $ 400,000).
At the end of February, the NFT-token with Trump from Beeple was resold for $ 6.6 million. In December 2020, the artist raised $ 582,000 for Crossroad. Prior to that, the work "Everydays: The First 5000 Days" from Beeple in the form of NFT was first put up for auction Christie's auction.
In early February, actress Lindsay Lohan sold the non-fungible Lightning token at the Rarible auction for $ 70,000. The popular Nyan Cat meme gif was sold at the Foundation auction for $ 568,000.
The creator of the Litecoin cryptocurrency, Charlie Lee, noted the similarity of the growing popularity of the NFT market with the ICO boom of 2017.
Analyst firm NonFungible predicted significant growth in the market for non-fungible tokens in 2021.