Bitcoin is still trading around $ 57,000 and Ethereum around $ 2,000, within a few percent of their all-time highs. Nevertheless, after another refusal on a major resistance and the resulting liquidation of $ 2 billion positions, many traders despaired of waiting for the uptrend to resume. This is evidenced by the observations of the analytical platform Santiment.
"Public sentiment towards Bitcoin and Ethereum fell into an extremely negative area, while BTC pulled back from $ 60,000, and ETH returned to values ​​below $ 2,000," analysts write.
They accompanied their commentary with a graph showing that market sentiment regarding the two largest cryptocurrencies is now at its lowest level since the beginning of the year.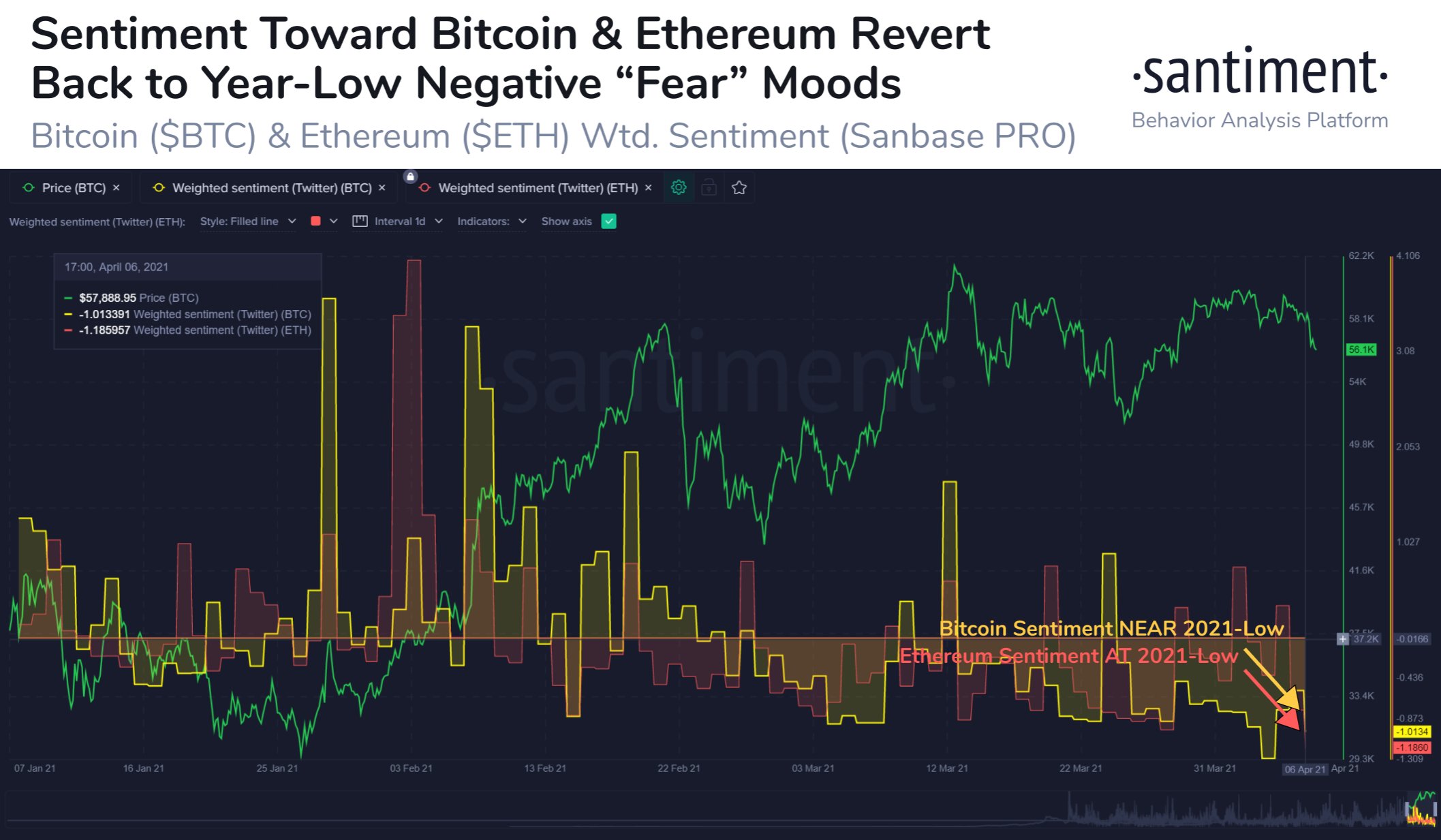 According to the description, the Santiment tools reflect the difference between positive and negative mentions of cryptocurrency on Twitter, adjusted for the number of tweets. Positive readings indicate bullish sentiment for most investors, and vice versa. The greater the deviation, the more pronounced are certain moods.
"Historically, buying at these fear levels has provided bullish opportunities," the company adds. The opposite is also true: in many cases, extremely positive sentiment of traders coincides with the downward reversal points.
The Fear and Greed Index – another metric for assessing sentiment – meanwhile, is holding around 73, indicating that the market is still greedy, but not "extreme greedy" like last month. Current readings are in line with January levels, when Bitcoin faced the first major correction in the current bull cycle, dropping from $ 40,000 to $ 30,000. Funding rates in the futures market, however, suggest a more neutral sentiment of traders, calmed by yesterday's liquidation.
Market participants with negative sentiments include Scott Meinerd, investment director at Guggenheim Partners. Speaking to CNN on Wednesday, he warned that Bitcoin remains in a "speculative bubble" and compared it to GameStop and other popular stocks among retail traders.
"When it comes time to ditch risks, we may see Bitcoin pull back into the $ 20,000-30,000 zone," he said, adding that these levels would be good for adding long-term positions.
A Filbfilb analyst calls the current local low near $ 56,760 "inconclusive" and says there are still enough bullish traders in the futures market to get rid of before a new move up.