The growth of Bitcoin quotes on Friday interrupted the five-day fall of the cryptocurrency on the Moving Average indicator line, with a period of 50 days. This curve determines the direction of medium-term trends, yesterday's rebound indicates the fact that large buyers have not yet lost faith in the further growth of BTC and have increased their positions.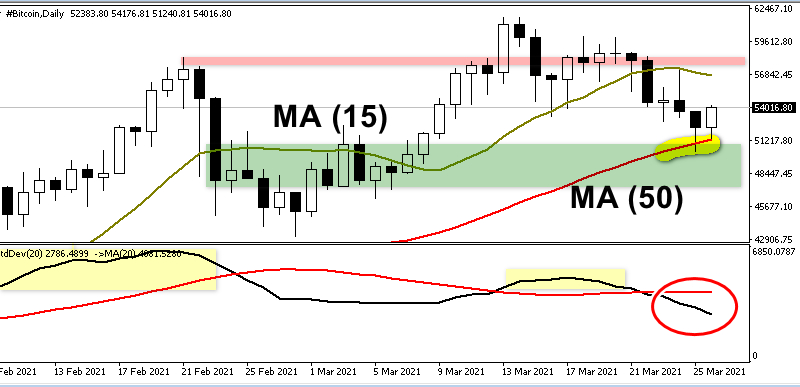 As you can see in the figure above, the MA (50) line practically merged with the "bottom zone" of the February correction; in technical analysis, such a combination strengthens the signal of a probable reversal of the downtrend.
Friday's bounce in BTC / USD indicates that the February lows will not be crossed next week. However, according to the "technique", the started growth can be stopped at the MA (15) indicator line or the resistance level indicated on the chart with a red marker.
Updating Bitcoin highs is impossible without an increase in volatility, which is now below its average values ​​of the StdDev indicator located in the basement of the chart. On the one hand, this guarantees that there are no plans of trading participants for further sales of BTC, but it makes it impossible for the passage of significant resistances.
Volatility increases with the inflow of new investments, backed only by fundamental factors. They may not be directly related to cryptocurrencies. In particular, yesterday's drop in the interest rate of short-term US bonds (Treasuries) led to a rise in the rates of all risky assets, which include stocks and cryptocurrencies.
It is noteworthy that the "culprit" of the fall in Treasury yields was the international pension funds, buying up these securities before the quarterly report. By law, they are required to have a certain percentage of investments in bonds in order to reduce the risk of investment loss.
Together with bonds, pension funds began to acquire Bitcoin and shares of crypto funds in the first quarter of 2021. As soon as information about this is widely publicized, after the release of the first reports, the cryptocurrency market will soar to new highs.